Quality. Comfort. Durability.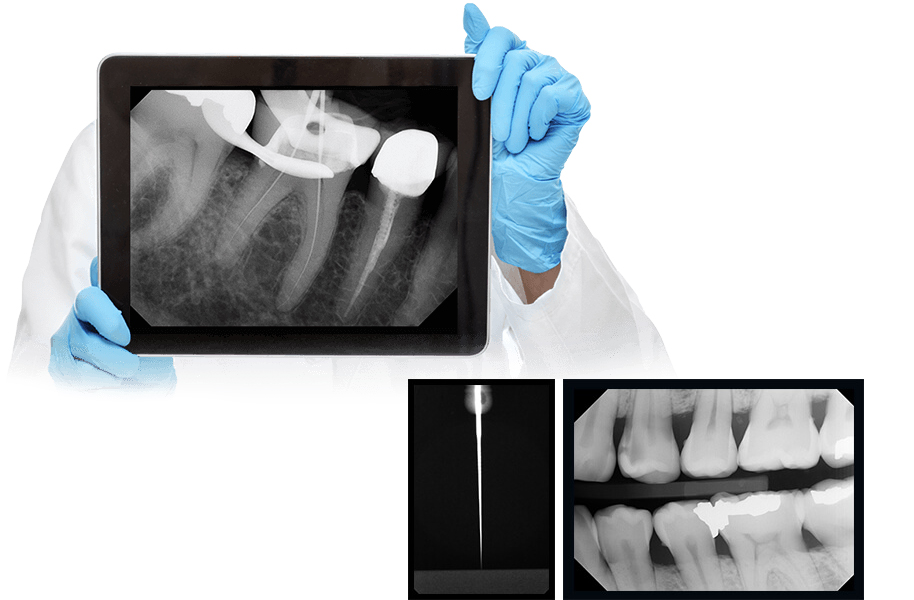 XDR's Anatomic Sensor provides superior resolution and coverage for your digital x-rays
The patented design of the mesial edge makes it easier to capture the canine pre-molar contact. The total package is exclusively designed to be easier to clean. Easier to insert. Easier to see, and more comfortable for the patient. It's durable construction and image quality and everyday usability will make you glad you invested in the XDR anatomic sensor.

More than just sensors, XDR offers state-of-the-art Collimator, intro-oral cameras, and dental imaging software.

REQUEST AN ESTIMATE
Featured IRIS intraoral cameras
Curious about an all-inclusive digital X-ray upgrade?
Get the information you need for a seamless, cost-effective and worry-free transition
FREE GOING DIGITAL E-COURSE
Find out how to prevent overpaying, get everything completely installed and tested, as well as ensuring that you and your staff are fully trained and supported from day one.
This 4-part email course shows you how to get the best price while avoiding the most common pitfalls of a digital radiography upgrade.

Discover how to prevent overpaying, get everything completely installed and tested, as well as ensuring that you and your staff are fully trained and supported from day one.

Take this e-course to find out how you can ensure a smooth digital transition.
START COURSE
SAVE $39,162 on 3-D and $13,266 on 2-D Radiography Packages with support!
At DMC, you not only save 35% on 2-D and 3-D digital packages with the latest equipment from the biggest brands, you also benefit from our 32 years of technical expertise ensuring installation of your new equipment goes as smooth as possible. As part of your purchase, we provide:
Existing Equipment Compatibility Review
We make sure your computer hardware and network is compatible, informing you of any required upgrades in advance
Electrical work and monitor placement
Assessing your network wiring and reviewing your options for operatory monitor placement and installation.
Complete Training and Ongoing Support
Including training and in-person or remote support for your dental X-ray equipment and related software.
3-D Shielding Report
Providing a comprehensive 3D radiation shielding report to ensure proper placement of your new device.
See what you've been missing
Maximize the Mesial Imaging Area and Increase the Capture Rate of Canine/Premolar Contact
For historical reasons, most sensors place necessary electronics near the edge where the cord exits the sensor. The result is a dead space of up to 6mm, since the electronics cannot also be part of a sensor's active imaging area. So, for bitewing purposes, the very edge used to capture the canine/premolar contact may not capture any image at all for its first 3-6mm. Clinicians who regularly place sensors instantly see this as a problem.

By moving the electronics elsewhere, XDR engineers achieved a 2mm mesial dead space, little more than the dead space common with film packets. Doctors report that good parallel technique is easier to achieve with XDR's Anatomic sensor. The maximized mesial imaging area aids capture of the canine/premolar contact. And that bitewing images more often display 8 contacts for diagnosis

The Anatomic Sensor also achieves a practical standard of spatial resolution in dental radiography. With that, the ability to see anatomic structures is enhanced, improving diagnosis.
REQUEST AN ESTIMATE
High Definition, Sleek Design, Solid Construction
XDR's HD1600 Intraoral Camera (IOC) provides color accuracy and stable imaging
XDR HD 1600 Intraoral camera gives you a beautiful image, precise color rendition, a manual focus an easy to reach capture button and three levels of LED brightness. All this comes in an attractive metal body designed to last for the life of your practice at an extremely affordable price.


Features include:
Plug and Play with adjustable brightness

Stable Image (CMOS Technology)

High def resolution with true to life colors

Focal Lengths from 1mm to infinity

Compatible with a wide variety of imaging software



REQUEST AN ESTIMATE
XDR Dental Imaging Software
Not all software is the same. XDR Imaging Software delivers top tier imaging and unique diagnostic power. Developed by our own dentists and engineers, it's dramatically easier to use, while supporting dentists and auxiliaries in exposure levels, image analysis, and treatment planning.

REQUEST AN ESTIMATE
XDR ALARA Dental Collimator
XDR's ALARA Dental Collimator works with any holder system to decrease radiation exposure
Having an XDR ALARA Dental Collimator in your office can come in handy for patients who are concerned about radiation. The XDR ALARA Collimator can reduce of to 75% of unproductive X-rays to the patient. It can be used along with your rinses and, after a little practice, you can be confident you are doing everything you can to protect your patient while staying within your ALARA principle.
REQUEST AN ESTIMATE
Get the best price on a Vatech 2-d or 3-D X-ray machine. Guaranteed.
When you include a hardware service plan with your Vatech machine, you won't find lower prices anywhere. You owe it to yourself to find out just how much you will save on a Vatech digital radiography device from DMC.
We have the GUARANTEED Lowest prices on Vatech
Contact us for an estimate on any Vatech 2-D or 3-D machine