Advanced clinical charting for the modern dentist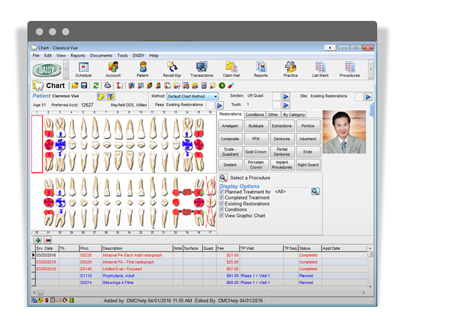 Easily maintain clinical records with intuitive clinical charting software

Looking for the top dental charting software? Fully customizable, DAISY clinical charting software gives you complete control over how you enter patient records.

And because our dental charting software is fully integrated with your digital dental imaging software, you can easily acquire digital X-ray images and import them for immediate use.

To see firsthand how DAISY's clinical charting software can dramatically increase productivity, request a free online demonstration.

REQUEST A DEMO
With DAISY's clinical charting software, you can:
Expand your operatory capabilities for more control of your practice
Encourage more patients to agree to treatment plans
Enjoy more "face time" with your patients, improving their experiences
Features include...
The power to prepare and present treatment plans chair-side
Hands-free, voice-activated periodontics charting

Easy access to your records from every screen in the DAISY system

Cheryl James
-
Eugene, Oregon
Patient Coordinator for Dr. Howard Curtis
Dr. William Kelley
-
kelleysalinasdentistry.com
Patient Coordinator for Dr. Howard Curtis
Dr. George McCully
-
eugenedentist.com
Eugene, Oregon
Sherri Egbert
-
Corvallis, Oregon
Business Assistant Corvallis Periodontics
Desirae Chalmers
-
Sacramento, California
Chief Operations Officer for Dr. Jayson Chalmers
Dr. Dave Bizeau
-
bizeaufamilydentistry.com/
Tillamook, Oregon
Request a free DAISY software demo today
Find out how much time and money you will save with DAISY
STARTLING DENTAL FRAUD EBOOK
Uncover the ten most common dental scams and how to avoid them
Told through 12 real stories about dental practices that have been scammed, defrauded and taken for a ride. All were inside jobs. And it's not always who you think.

Did you know... 1 in 4 dentists will be embezzled at some point during his or her career? Protect yourself. Read this ebook today.

DOWNLOAD NOW
Fully customizable voice-activated periodontal charting

Discover the ways DAISY's clinical charting functions can expand your operatory capabilities, give you more "face time" with your patients, and make you feel more in control of your practice overall. DAISY Chart keeps everything you need no more than a click away.

Schedule a demo to uncover how DAISY can help you gain profitability, increase productivity, and lower overhead
Request a Demo
The following features come standard with DAISY Chart
Hard Tissue Charting
Hard tissue charting lets you chart existing restorations, create treatment plans, record completed treatment and add clinical notes chair-side. Plus, customizable "quick set buttons" help you easily access your most-performed procedures.
There's no need to enter information twice. Once you complete treatment in the patient's clinical chart, DAISY's clinical charting software automatically generates a charge transaction for review and posting.
And your records are organized and accessible from every screen in the DAISY system.
Periodontal Charting
Most periodontal charting software only gives you part of what you need. Collecting information accurately and consistently is critical to the success of your dental practice.
When you purchase DAISY Chart, we customize the periodontal charting software to reflect you and your staff's preferred charting methods. Because DAISY's perio charting features conform to your unique way of recording measurements, your perio charts are uniform and easy to read.
Periodontal Reporting
DAISY's periodontal reporting is better than any other clinical charting software on the market. DAISY Chart makes it easy to send a copy of the patient's chart back to the referring dentist or attach it to electronic insurance claims.
In the operatory, DAISY's perio chart helps you illustrate important information to a patient. You can view reports, show your patient a comparison chart to demonstrate progress or deterioration of pocket depths, or choose from other view options that help you communicate with your patients.
Prescription Writing Features
When you're writing prescriptions, accuracy, and convenience are critical. DAISY includes prescription writing features that help you avoid errors. It also lets you write prescriptions for your patients quickly and easily.
With DAISY Chart and DAISY's front office software, you can record and print a prescription from any connected computer in the office. Or, if you have remote access, you have the option to record and print while working from home.
Voice-activated Charting
Have you ever wished you had an extra hand during a perio exam? DAISY's perio charting is voice-activated, letting you speak instead of write. This tool frees your hands, helps you focus on your patient and lets you complete an exam without assistance.
DAISY's voice-activated periodontal charting takes full advantage of Microsoft Speech capabilities. The hands-free perio charting software "learns" individual users' voices quickly and saves voice files by user name. All you have to do is log into the computer and the perio charting software will recognize your voice.
Digital X-ray Systems Integration
One of DAISY's charting and practice management software's most powerful attributes is its ability to work seamlessly with any digital dental imaging software.
Because DAISY integrates with more than 27 different types of X-ray imaging software and equipment, your digital equipment will work without the need to purchase custom bridges.
And if you don't currently have digital X-ray equipment in your practice, you're secure in knowing that DAISY's front office and charting software will work with whatever dental X-ray system you choose in the future.
Access Information From Anywhere in the Office
Have you ever wished you could get a quick look at a patient's digital X-rays in the middle of treatment planning? DAISY's clinical charting software gives you quick access to all pertinent patient information, on demand, from anywhere in the office.
Just like DAISY's front office software, no matter where you're working — even chair-side — you can communicate with the front office, generate referral letters or prescriptions, make changes to medical information, view the account ledger or insurance claims history and more.
Fully Customizable
DAISY Chart gives you complete control over your soft and hard tissue charting and clinical records. To learn more about how DAISY's clinical charting software can dramatically increase productivity, request a request a free demonstration.

What features will have the biggest impact on your profit and productivity?
Request a demonstration to discover how DAISY can streamline your practice