Compare features and pricing between all three DAISY packages...
STARTLING DENTAL
FRAUD EBOOK
In this free dental fraud ebook, you will discover the ten most common dental scams and how to avoid them. Told through 12 real stories about dental practices that have been scammed, defrauded and taken for a ride. All were inside jobs. And it's not always who you think.

Did you know... 1 in 4 dentists will be embezzled at some point during his or her career?

The 2010 Marquet Report on Embezzlement stated that embezzlement is a $400 billion per year problem, and the healthcare industry is one of the top six industries affected.
DOWNLOAD NOW
Finally, software designed for greater profitability and increased productivity
DAISY's dental software brings a new level of order and efficiency to your dental practice. DAISY was designed to help amplify your cash flow, improve your staff's productivity, cut month-end processing time in half and improve patient communication, retention, and loyalty.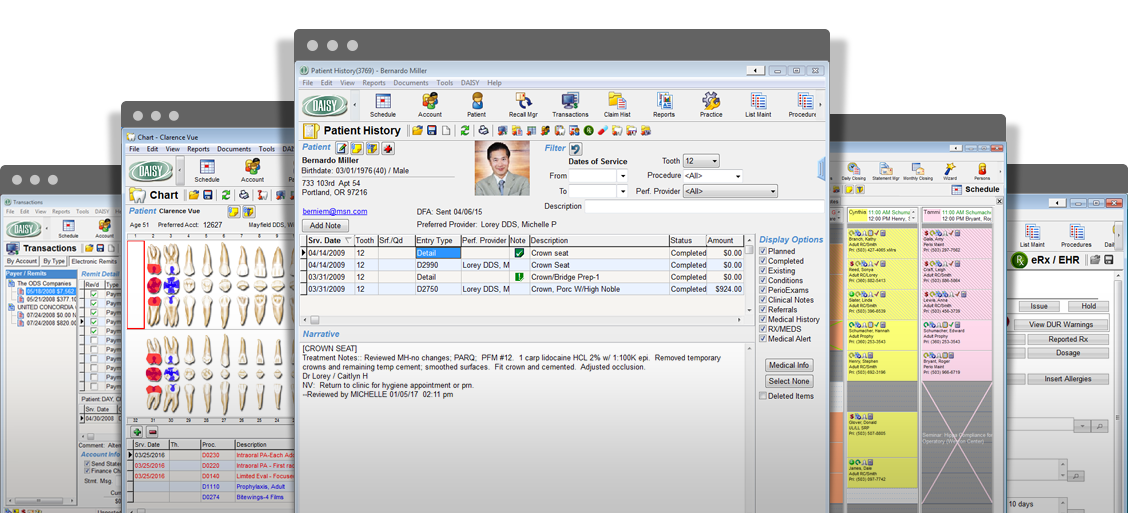 TAKE YOUR PRACTICE TO A NEW LEVEL WITH DAISY
Here are a few of the features that come standard with DAISY dental dental software:
Transaction recording
Real-time data entry allows the front office to close out a charge transaction from DAISY's scheduling screen at the same time the operatory is updating a clinical record. You can also
automatically post credit card and ACH payments
to DAISY, reducing the time spent processing payments.
Managing Accounts
Enjoy a smoother, less hectic revenue cycle. Configure your accounts to fit your dental practice,
choosing who gets billed, when they get billed and what messages are included
on the bills. It all results in excellent flexibility and more streamlined account management.
Statement Manager
Cut your monthly processing time in half
, and free up more hours in the day to focus on other tasks. DAISY's Statement Manager makes it easy to specify who receives statements, review each statement for accuracy and flag the accounts that are ready to bill all from a single window.
Automated Recall
The most comprehensive dental recall software on the market, keeping patients from falling through the cracks — and boosting your revenue. The automated recall feature also
saves you time and money
by allowing you to print and mail your cards through DMC on our high-speed equipment.
Electronic Appt. Confirmation
Reduce no-shows and
eliminate the time-consuming staff effort
of calling each patient to confirm appointments. Discover a new way to keep your operatories full with DAISY's AutoRemind.
Best Fit
Find the best appointment — for both you and your patient. DAISY's Best Fit feature
suggests the best open appointment slot
based on preferred times, days of the week, provider and/or procedure. It also helps staff find the first available opening without searching day by day, so you can easily fill more of your time.
Extensive Reporting
Get the exact information you need to make smart business decisions. DAISY's reporting library lets you
choose from more than 150 reports
. See end-of-day or end-of-month reporting, production analysis, incomplete treatments or virtually any other information you want.
Merge Doc
With Merge Doc, you can automatically pull patient data to
customize thank-you and welcome letters, collection letters, and other patient communications
. You can print letters, forms and envelopes in Microsoft Word — ideal for quick and personal communication.
Document Manager
Become 100% paperless. With document manager, your data is easily organized, secure and at your fingertips. Document Manager lets you
eliminate your paper filing and storage
, since all paper documents can be scanned, securely stored and easily accessed within DAISY.
Goal Tracking
DAISY tracks your practice goals to
see whether you're hitting your financial targets
. Goal tracking helps you view daily, weekly or monthly totals of scheduled procedures, so you can compare it to your dental practice goals.
Treatment Planning
Schedule more high-dollar, follow-up procedures that
keep your schedule full and your patients healthier
. Fully integrated with clinical charting software, treatment plans are easily organized and sorted, so you can quickly see which procedures have already been completed, as well as what remains to be scheduled.
Quick Estimates
Save time and reduce the cost of billing with quick estimates from your dental management software. At the end of an appointment, your front office staff can simply click a button to see the patient portion of the bill.
Your practice gets paid immediately
, so there's no need to bill later.
Security Features
Prevent fraud with
bulletproof security features
. Set access levels for employees based on their roles in the practice, improving security and decreasing user errors in your system. DAISY tracks activity by employee in a log that creates a permanent audit trail that cannot be deleted.
Prescription Writing Software
DAISY includes prescription writing software that helps you avoid errors, writing
accurate prescriptions quickly and easily
. Record and print a prescription from any connected computer in the office. Or, if you have remote access, you have the option to record and print from home.
Clinical Notes
Keep records safe, easy to find and available at the click of a mouse. DAISY clinical notes store records in a uniform format and feature
electronic sign-off and review
, so you won't risk losing paper files during a busy day.
Discover what DAISY can do for your profit, overhead, and productivity
What else can do with DAISY dental practice management software?
See how DAISY can help you keep cash flowing, lower overhead, maintain impeccable patient records, and gain stellar productivity

With DAISY's Mobile application you can book appointments,
write prescriptions and more directly from your smartphone or iPad
Lisa Golding
-
Tacoma, Washington
Treatment Coordinator for Dr. Alan Tronset
Sheri Baird
-
Scappoose, Oregon
Office Manager for Dr. Steven Taylor
Paula Wallace
-
Lake Oswego, Oregon
Office Manager for Dr. Paul Kimbrel
Donna Balodimas
-
La Mesa, California
Office Manager & RDA Dr. William Dinkha
Natascha Medbery
-
Portland, Oregon
Front Office Coordinator for Dr. Ron Selis
Jeanette Cooksey
-
Butte, Montana
Receptionist for Dr. Toby Richards
Pam Scott
-
Kalispell, Montana
Administrative Assistant for Montana Periodontics & Dental Implants
Nancy Nevins
-
Salem, Oregon
Office Manager for Seifert and Wylam DMD
Tracy Jacobs-Fife
-
Oklahoma City, Oklahoma
Office Manager for Dr. Justin Biggs
Get additional training, tools and support
As a DAISY user, you get access to tools and training to help you get the most out of your dental software, computer hardware, and digital radiography systems. If your practice is new to DAISY, a DMC staff member will be on-site to install and configure your dental software, train your staff and make personal recommendations. If you're a seasoned DAISY dentist you can schedule online training for new features or new staff.
Personal training
Initial training for DAISY is generally completed in three to four days, depending upon the software components you purchase. Training can take place online, at DMC's training facility or on-site in your office.
Insurance lookup
Easily find insurance company addresses and codes, anytime — even if you only have a partial company name or address. DAISY users get access to our online insurance directory, saving your staff time and improving productivity.
Recall card selection
Increase appointments by reminding patients when they're due for cleanings or exams. DMC can print, mail and track your patient recall cards from within DAISY's Recall Manager.
Our most complete set of paperless tools now come standard.
Plus UNLIMITED claims!
A full-featured dental practice management software, DAISY gives you the latest technology to enhance cash flow, streamline workflow, and reduce overhead costs. Below are a few of the features you get with DAISY.